Blog with Love: Cornerstone Bed & Breakfast

When I was a child, some of my fondest memories were the winter holidays spent with my Mommom. I remember walking into her house and it was always so warm. The heat from the oven filled the entire house. It was that kind of warm that comes with the best naps when you have the perfect amount of blankets and the pillows are just the right firmness (and possibly a slight glaze of drool on them when you awake). And her house always smelled so good. She was always baking something and the holidays were the height of baking season, of course. I remember walking through the front door and craning my neck to get a peek into the kitchen (that we weren't allowed to be in) to see what had been whipped up, sugared, buttered, glazed and frosted. Holiday dinner at Mommom's house had the very feeling that is evoked from viewing Norman Rockwell's painting 'Freedom from want'.
My Mommom has been gone for many years now and I've longed to experience that warmth and those scents again. It was never replicated until I crossed the threshold of the Cornerstone Bed & Breakfast in Philadelphia. I'm a sucker for a Victorian home and was impressed beyond words with the beauty of this home. But it was the welcome, the warmth and oh my goodness the smell of fresh baking that drew me back to my childhood. I wanted to run right into the kitchen and sneakily drag my finger through the big bowl of icing that I just knew was in there!
The
Cornerstone
is a fully restored Victorian mansion that was first constructed in 1865. It's located within walking distance of University of Pennsylvania, Drexel University, Philadelphia Museum of Art, restaurants, and shops. First time in Philly and not sure where to go? Just ask one of the Inn Keepers, Dennis. He is a veritable encyclopedia of all things wonderful (and not so wonderful) in Philadelphia. When asked what he would recommend for dinner, he rattled off a list as long as my arm and the history of most of the eateries.
Most of the seven rooms at
Cornerstone
only accommodate two guests each. The Continental (where
both
Stephanie's
,
Jenni
and I stayed) sleeps four. This suite was amazing. It included a sitting room and two spacious bedrooms with an adjoining bathroom that included the biggest tub I have ever seen in my life. Like every well laid out bathroom, the double sink and vanity were separate from the facilities. Very handy when you have four women staying in one suite!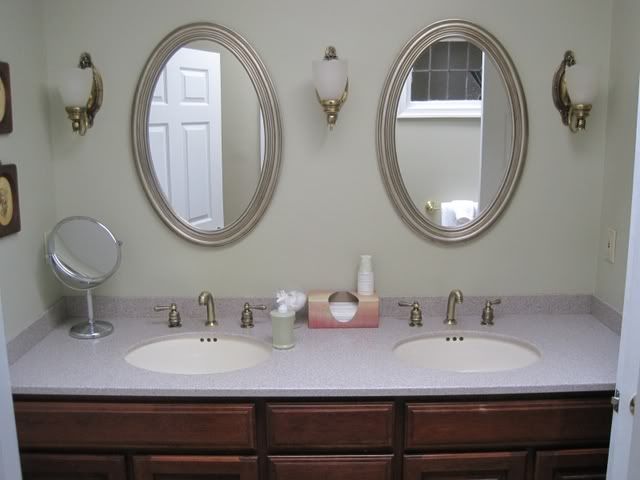 But each room is just as spacious and elegant as the next. Every room is beautifully decorated and includes wi-fi and satellite TV offering over 100 channels. Stained glass, Tiffany-style lamps, decadent wallpapers (including a faux tin-stamp paper!), needlepoint and antique black and white family portraits decorate the entire house.
If you ask about those photos you will be delighted with tales of the Bartelme family.
My favorite part of our visit was definitely the full service breakfast on Sunday morning.
Liz put together an outstanding breakfast of a blueberry casserole, ham, fruit and hot-cross buns. Additionally it was an opportunity to talk to the owners and the other guests at
Cornerstone
that I enjoyed most. Dennis and Liz are such wonderful hosts and not only fed us but kept us entertained throughout breakfast. They even humored all of my silly questions about their decor and photos and history of their inn.
The only thing that would have made this visit more perfect would have been some warm, Spring weather. Apparently Mother Nature has not yet gotten the memo that it is in fact Spring! I really would have enjoyed having a sit on the the lovely wrap-around porch. I guess I'll just have to go back some time!
Dennis, Liz, Jules and Chris, thank you, from the bottom of my heart for hosting our group. I went in fully expecting to enjoy our visit and was delighted to have it bring back happy childhood memories. It was a perfect reminder of how I'd love to have guests feel in my home. And that is what made this visit so perfect - I didn't feel as if I was in a hotel - I felt like I was home.
This is my personal review of Cornerstone Bed and Breakfast. All comments written here are 100% my own. Cornerstone hosted our visit gratis in return for an honest review of their establishment. I am so pleased to be able to report that we had a lovely and positive experience at their inn. You can also find Cornerstone Bed & Breakfast on Facebook. If you ever stop in, tell 'em the Turnip Farmer sent you!