Take it off | Week 61: Exposed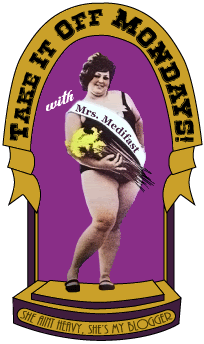 Well...I didn't make it past 100 votes. At least, I don't think I did. Blogher closed the voting thus making the finally tally private. (Which I don't understand - but whatever.) When I last checked yesterday afternoon, I was up to 43 votes. I think that will be enough to get me to the judging table in my category.
I know that I had to throw a cheap gimmick out there to get y'all to vote - but the response - WOW! You all left me so many kind, thoughtful and kleenex worthy comments here and on Facebook. I am so touched by the response. No matter what happens with this competition, I've got my reward. Your words will be me forever. They will be cheering me on when I run the Broad Street Race this Sunday. When I train for and run a half marathon. And hopefully a marathon one day soon (but not too soon! My legs hurt.).
As usual, I struggle to find the right words to adequately express to you how grateful I am for all of the kindness and support that everyone has shown me throughout this process. So even though I am sure I didn't make it to 100 votes, I'm gonna pony up with the bikini photo. I'm not sure if this is going to be a good thing or a punishment for y'all.
Ready?
Here we go...
I've really been working on my abs. And how about that hair?
Okay, okay. I'll make with the real deal now. But I feel the need to do a lot of prefacing. I know I don't look anything like the photo above. I am aware that I have a lot more work to do. I am also aware that my various body parts are like 15 different skin tones and that I need to go get a spray tan or something. Also, don't go blowing up this photo, cause my legs are totally unshaven. I have cellulite, stretch marks, a B belly and no boobs.
But I've also got balls - which are conveniently tucked under the skirt. ;)
Okay, for real this time, here we go. Can someone hold my hand? Stream of conscious writing here...this is kinda, really hard. Harder then I thought it would be. Damn it.
::holding my breath::
I've written a lot of tough posts in the past but this is by far the hardest. I've always been okay with my body in clothes and such...but put me in a bathing suit and it's like one of those dreams where you accidentally show up to work naked. But I like what I see. A lot. To look at where I came from, to where I am now, I'm proud of that body even if it's not everyone's ideal. That's an example of perseverance, hard work, good habits and healthy living in progress. That is pride. Though I will be working on that tan. That white belly just looks ridiculous.
I want to challenge you to try on a bikini and take a photo. You don't have to share it. You don't even have to buy it. But don't wait until your body is perfect - because it never will be. I know a lot of you have been working so hard right along with me. I hope you'll see all of your hard work and determination. I challenge you to get in that fitting room and LIKE what you see!
• • •
I've been on the 4&2 plan for a full week now. It's been challenging but fun and somewhat of a relief. It started off (and continues to be) challenging because I've had to convince myself that eating more will help me lose weight. Crazy talk, right? Because eating more was how I got to be 240lbs to begin with. The difference is that now I'm eating good stuff. And I'm moving so much that my body wants and needs all of those good calories. It's been kind of fun too because I get to jazz up my meals. For example, for breakfast I'll have a Medifast pancake and now, on 4&2, I can have a piece of Morning Star Sausage with it. I have the ability to split up my first Lean & Green meal into side dishes with my other meals. And it's been a relief because, even though its moving slllloooooowly, the scale is moving again. I am down .5 this week for a grand total of 88lbs lost.
I also took measurements as promised. But I left the piece of paper I jotted them down on back at the house. So come back later today if you want to see my latest measurements, I'll be updating this post. Strangely my measurement have not changed much since I last did them in November. But my clothes and scale certainly tell a different story. Muscle, maybe? Who knows. It's more likely that I incorrectly measured myself. Anyway, they'll be up later.
Thank you again for your support and your amazing comments. THANK YOU!
Month Two: -5 lbs
Month Three: -6 lbs
Month Four: -6 lbs
Month Five: -6 lbs
Month Six: -8.5 lbs
Month Eleven: -6 lbs
Month Twelve: -4 lbs
Month Thirteen: -6.5 lbs
Week fifty three: -1.5
Week fifty four: -.5
Week fifty five: -.5
Week fifty six: 0 :(
Week fifty seven: -1
Week fifty eight: 0 bleh.
Week fifty nine: .5
Week sixty: Unknown
Week sixty one: .5 (I'll take it!)
Total:
88 lbs gone forever!
Current weight:
152 lbs
Distance from goal:
12 lbs!!
Medifast recently introduced a new customer savings program. If you use my coupon code, TURNIP56, and sign up for Medifast Advantage when you order $250+, you'll receive 56 free Medifast Meals and free shipping! Medifast Advantage has a lot of perks, including free customizable meals and a free BlenderBottle® with minimum purchase.
For your first order of $250+, use my code, and enroll in Medifast Advantage to receive 28 free meals. Do the same on your next order and you'll receive ANOTHER 28 free meals! This offer is only valid if you enroll in Medifast Advantage, and it's limited to one per customer. It's not valid with prior purchases, any other promotions or discounts, or for Medifast Ready-to-Drink Shakes. Check out Medifast's website for complete details on program and discounts.
*FTC Disclosure: Medifast provides their products for my personal use for free. I am not paid or compensated in any other way for mentioning their products. All thoughts written here are mine. I love complaining so I would tell you if I didn't like something in the program. :)
Medifast products and the Medifast Program are not intended to diagnose, treat, cure, or prevent any disease or illness. Any medical improvements noted while on the program are related to weight loss in general, and not to Medifast products or programs.