Take it off, Week 18: OH MAH GAHD!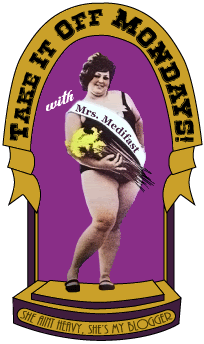 Okay, you have to use your imagination with today's post. This photo was taken on our honeymoon, I weighed 194lbs. Now pretend it's like 20 seconds later and add 10lbs to my frame. Because it was about 20 seconds into married life that I gained 10lbs.
(And please excuse the weird posture.
I am sure that C probably told me to stick out my boobs or something silly like that.)
This is me, the day before I had Izzy, I was about 265 (I think, I can't remember).
This is me at 225-ish pounds, 3 days after giving birth.
And then up, up, up we went until I hit 240 and stayed there. I'm sure you all remember these pics.
Well after all these pics you must be saying to yourself that she must have some awesome progress photo to present to us this week!
Actually I don't. Heh. Sorry. I meant to take a photo this weekend and never got around to it. The one photo I do have doesn't do my weight loss justice because I am sitting down all lumpy-like.
Besides, I think I'm going to make y'all wait for another photo until I hit a 40lb loss. neener neener.
So what was the point of this journey through time? When I got pregnant with Izzy I weighed in at 204lbs. The point of all of this is to tell you that not only did I get back to my pre-pregnancy weight, I have surpassed it! I now weigh in at 203, that's a 37 pound loss since starting
Medifast
in March.
Since I am a big ol' meanie and not giving you a progress photo today, I will give you this super cute photo of Izzy and me from the weekend. :)
Week five: -0 lbs (maintain on vacation)
Week nine: -0 lbs le sigh. damn gravity!
Week seventeen: -2 lb
Week eighteen: -2 lb (Holy shit y'all! I'm below pre-pregnancy weight!)
Total: 37 lbs gone forever!


If you're interested in trying Medifast, I have a great deal for you! Use the code TURNIP50 to get $50 off an order of $275.
*FTC Disclosure: Medifast provides their products for my personal use for free. I am not paid or compensated in any other way for mentioning their products. All thoughts written here are mine. I love complaining so I would tell you if I didn't like something in the program. :)