Take it off, Week 27: I messed up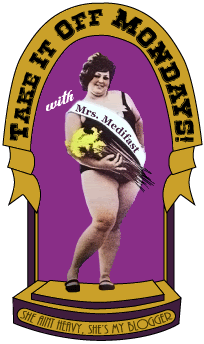 This was not a great week. I unintentionally went off plan - and not in the way you'd expect. Last week was a rough one at work. I'm starting to get busy again and my little Mac, she's been trudging along but finally decided to give up and head to the big iCloud in the sky. I couldn't even move my mouse without everything freezing up. So this made for a very stressful week with lots of overtime to make up for all the time I lost.
And this has
what
to do with
Medifast
? Well, it caused me to accidentally go off plan and at the time, I didn't even realize it was happening. No, I didn't eat my way through bags of chips or hit up McD's for a quicky meal. Instead I did something that was probably way worse. I forgot to eat a lot of my meals and I barely drank enough water to survive. Oops. And because the 5 and 1 Plan is calorie restrictive, skipping meals is bad, bad, bad and grounds for a serious time out. I lost 1 pound this week. I'm shocked that I lost anything. I'm pretty sure my body went into starvation mode and what made it worse was that I was still recovering from being sick.
My point is: Don't do this!
Eating all of your meals and getting your water in is key on this diet. Honestly I'm a little scared of what it will do to my weigh-in for next Monday as my body re-adjusts. But this is where I am and all I can do is get back on track and hope for the best. In all I am down a total of 53 pounds....and wishing it were more. Sigh.
Anyhoo, I don't want to be a total downer so check this out:
Remember these pics way back from Week 9?
Well, I pulled the dress out again since I hit my wedding weight a few weeks ago.
Let me tell you, pregnancy changes the shape of your body. The next time someone says that to you and you look at them sideways and think "yeah right", well knock it off. Because I am telling you it's true. I weigh seven pounds less now than I did when I got married and that dress is
tight
. But it fits!
Here are the latest shots - I'm not wearing any makeup this time either. :P
So I know what you are thinking. You are thinking "Damn, that's one fine looking bride. I wish I could have been at that wedding. I bet that was a great party."
You bet your sweet bippy it was! Lucky you, I am now going to re-enact the reception for you.
There. Now don't we all feel better?
Oh! I also wanted to mention some new products that
Medifast
put out last month. They have new Medibites, which are perfect for on the go. They are like little cheese curls...but ya know, good for you. The bites come in BBQ and Cheese Pizza. I love the BBQ and the Cheese Pizza remind me of the pizza we used to get in the school cafeteria.
My favorite new product are the Spiced Pancakes. When you add a dash of the new
Medifast
Syrup, they taste like a hot apple cider donut. So freaking good.
Okay, y'all, please send me some good vibes that I'll have a better week next week. Since I started writing this post I've already exceeded my water intake for the day. Woot! I'm off to a good start.
How are you doing on your health goals? Link up below and tell me all about it.
Month Two: -5 lbs
Month Three: -6 lbs
Month Five: -6 lbs
Week twenty five: -1.5 lbs
Week twenty six: -3 lbs
Week twenty seven: -1 lbs
Total: 53 lbs gone forever!
If you're interested in trying Medifast, I have a great deal for you! Use the code TURNIP50 to get $50 off an order of $275.
*FTC Disclosure: Medifast provides their products for my personal use for free. I am not paid or compensated in any other way for mentioning their products. All thoughts written here are mine. I love complaining so I would tell you if I didn't like something in the program. :)