Take it off | Week 60: Things that happened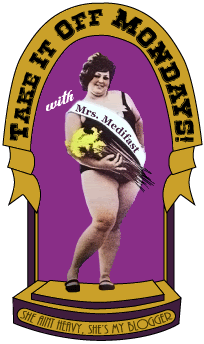 Things that happened this week:
• I switched to 4&2. Yup, I bit the bullet and did it. Now I have 4 Medifast meals and 2 Lean & Green Meals. I'm exercising too much to be successful on the 5&1. That sounds negative - but its not. This is a good thing. This is progress. I'm no longer in a vegetative state on my couch more often than not. In fact, I'm moving so much that my body is all 'Whoa! Either you feed me more or I'm holding the rest of this chub hostage!'. You win body, you win. Now release the chub.
• I went to a consignment shop and tried on a pair of size 8 shorts. They were a tad tight in the lady bits area but totally fit. I bought them. Granted I will not be wearing them until they fit properly - because no one wants to see that. But I bought them for a little motivation and because I know I will be in them soon enough.


• I made some new recipes from Medifast foods. Recipe cards below.
• I did the 30 Day Shred every other day, as planned. I plan to do another week of Level One since I'm not doing it every day (alternating with running). I've never gotten through more than a few days of 30DS. Pretty pleased with myself that I've kept it up.
That's The Bitch, watching me do the 30DS. She sat there and meowed
at me for dinner the entire time. And that's why we call her The Bitch.
• I ran 10 miles! Broad Street Run, here I come!
This is what I looked like after that run - ready to die.
This is the bulging vein I discovered in my forehead after my run.
I named it Annie. Annie the Aneurysm.
I'm so proud of myself. I've had a lot of doubt as to whether I'd successfully complete a 10 mile race - even if it is mostly downhill (according to my friend Kiely who will be running it with me). I had Friday off from work and thought I'd log about 6 miles. As I rounded the corner to mile 4, I decided to try for 8. By the time I hit 8 miles, I decided 'hey, what's another 2? I may as well see how long 10 miles will take me since the race is only fifteen days away.'
At times, it seemed like the miles would never end. My time isn't terribly impressive and I had to do several short intervals of walking (though I was stoked to take on the hills like a beast!).
Things that didn't happen this week:
•
I didn't weigh myself. What? That's like cheating! You HAVE to weigh in every week!
Look, you can call it a cop-out and give me some side-eye if you want. But I chose to not weigh myself this week and that's that. That doesn't mean I've been binging, will binge or fall off the wagon all-together. I'm more dedicated than ever to meet my goal. I've even signed up for the new
Under Armour "What's Beautiful" campaign
and accepted numerous challenges on
TribeSports
.
It's simply that the numbers on the scale are making me crazy. I can see and feel changes in my body but those numbers aren't changing. Logically I know this means I'm creating muscle (and then there is the aforementioned
deficit in calories problem). But when you spend a year on the scale with nearly constant results and it finally stops moving - that's a tough pill to swallow. Weighing in every few days and seeing no progress, despite everything else I know, it takes a toll. And since this journey is as much about my mental state as my physical state, I made the choice to take a break from the scale rather than backing myself into a corner and creating an opportunity for a complete meltdown and failure.
I plan to resume my weigh-in's next Monday. Good or bad I will report my numbers. But in addition to scale numbers I'll be reporting measurements as well.
Good things are happening and its the good things that count the most.
Before I get to the recipes, I found this on Pinterest and thought it summed up my blog pretty well.
Orange Spice Pancakes
You can swap out spice pancakes for Chocolate Chip.
• • •
Strawberry Shortcake with Creamy Strawberry Spread
Month Two: -5 lbs
Month Three: -6 lbs
Month Four: -6 lbs
Month Five: -6 lbs
Month Six: -8.5 lbs
Month Eleven: -6 lbs
Month Twelve: -4 lbs
Month Thirteen: -6.5 lbs
Week fifty three: -1.5
Week fifty four: -.5
Week fifty five: -.5
Week fifty six: 0 :(
Week fifty seven: -1
Week fifty eight: 0 bleh.
Week fifty nine: .5
Week sixty: Unknown
Total:
87.5 lbs gone forever!
Current weight:
152.5 lbs
Distance from goal:
12.5 lbs!!
Medifast recently introduced a new
customer savings program.
If you use my coupon code, TURNIP56, and sign up for Medifast Advantage when you order $250+, you'll receive 56 free Medifast Meals and free shipping! Medifast Advantage has a lot of perks, including free customizable meals and a free BlenderBottle® with minimum purchase.
For your first order of $250+, use my code, and enroll in Medifast Advantage to receive 28 free meals. Do the same on your next order and you'll receive ANOTHER 28 free meals! This offer is only valid if you enroll in Medifast Advantage, and it's limited to one per customer. It's not valid with prior purchases, any other promotions or discounts, or for Medifast Ready-to-Drink Shakes. Check out Medifast's website for complete details on program and discounts.
*FTC Disclosure: Medifast provides their products for my personal use for free. I am not paid or compensated in any other way for mentioning their products. All thoughts written here are mine. I love complaining so I would tell you if I didn't like something in the program. :)
Medifast products and the Medifast Program are not intended to diagnose, treat, cure, or prevent any disease or illness. Any medical improvements noted while on the program are related to weight loss in general, and not to Medifast products or programs.