Take it off, Week 23-ish: The BlogHer11 hangover/Detox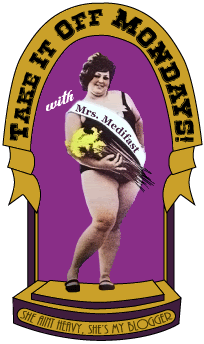 Oh my god you guys. How is it possible to have so much fun with 3,000 strangers?
Really I think I can sum up this trip in three words:
There was a lot of emotion for me over this trip. I was sad about being away from home for so long. It was the longest and furthest away I had ever been from Izzy. I missed her before I ever set foot on the plane. Then somewhere between getting through security and getting off the plane in San Diego, I lost my license.
**insert meltdown in hotel room**
After much freaking out it was decided that I would have my husband Fed-ex my passport overnight to me. Phew! I caused a small delay on the way home because it listed my maiden name and not my married, hyphenated name. So my ticket was different than my ID and I practically had to make out with the TSA agent to get him to let me through security without get molested or receiving low level doses of radiation. However, once I got to the security line and saw that the gentleman doing security checks looked like Eric Dane (aka McSteamy) I was a little remiss about worming my way out of an extra security check.
Ok, enough of that. Let's talk about the food situation at BlogHer'11. I will say this: I did okay. Not great, not bad, but okay. I don't know what I weigh yet cuz....well, I haven't pooped in like four days. Travel messes me up. I decided that would be unfair to make me weigh in today when I am hauling around a crap boulder. So check back with me tomorrow and I will give you the scoop that's not about my poop.
I'm going to guess though that I maintained. I had some treats and some drinks but I was pretty modest about indulging...ok...maybe not on the drinks. But come on, it was my birthday. Look, I'm not going to bullshit you. This trip was HARD. Three thousand women and none of them dieting. And I'd say I was probably on plan about 60/40 ish. The first two days were super easy for me. Thursday was a travel day and one party after my arrival.
Aw. look at me faking a smile and being all mopey pants. But remember
I had just lost my ID and was worried I wasn't getting home on Sunday.
Oh but wait! It's my birthday. A mini cupcake and
some blue concoction and I can be persuaded to smile for real.
Have I ever mentioned that Twizzlers are one of my favorite candies? And every damn time we walked
passed the Twizzler bridge, there was some chick there trying to shove Twizzlers down my throat. I said
no every time. (duh, I had to save my carbs for a margarita or two.)
Tip: Ask for clear tequila. It cuts down on the carbs
but not the fun.
Unfortunately the photos I don't have of me are me doing things like:
Eating my lean and green for lunch on Saturday.

Having Medifast bars for snacks in between sessions.

Walking 800 mother humpin miles to get everywhere.

Walking a 5k (that I don't think was really quite 5k) Friday morning.

Y'all I had to skip the workout with Bob on Saturday morning. Between jet lag, the walking and the exhausting schedule, I was hurting. I think I would have only gotten injured if I had pushed myself to go to his workout. But I still snapped this pic of him from the Meet and Greet:
I don't know who that lady is. And I didn't get
to meet Bob. I didn't feel worthy since I
punked out on the workout. But I did meet:
Wendi McLendon-Covey!!!! From Reno 911. Y'all she is sooooo
tiny and nice as can be. I love her to bits and think she's hilarious.
Anyway, back to all the healthy things I did:
I danced not just my ass but someone else's ass off at SparkleCorn
This is my view from the stage where I spent the better part of three hours
shakin' what my momma and french fries gave me.
I met a new Medifast bestie, Eileen from Bringing Up Bronwyn.


phew. i am lookin' beat. I was so tired in this pic.

If you all ever doubt anything I tell you about Medifast, ask her, she will back up it's awesomeness.

Silly me, I didn't take pics from our Room o' Swag event. But let me tell you, it was epic. We talked to so many folks that had a genuine interest in Medifast. I thought we might run out of samples before all our guests had come through.

Speaking of fabulous, fellow MFer Stephanie won a makeover. Everyone, she looked STUNNING! She is super shy about it but for real, stunning. I wish I had better photos.
Also, you will be happy to know that Roseanne Barr and I made up:
And last but not least, I met Heir to Blair, who gave me her blessing to take over the McFatty Monday link up (which you can find below).
Y'all, she has the sweetest accent and she's super nice in person.
I'm genuinely glad that I had the chance to meet her in person.
I learned many things this weekend. Even though I faltered a little on the diet, I feel ok that I've made it this far without a huge free for all. I could have had a few less drinks but I made up for it in other places (taking stairs instead of escalators, walking instead of cabs, water, water, water, and more) so whatever the scale says tomorrow, I earned it, good or bad. What I do know is that Medifast makes it super easy to get right back on track and that is where I am today.
I also did a lot of soul searching on where I want to take this blog and my life. I met a lady on the plane that was very much into nutrition (Hi Laurel!) and she has really inspired me to do a lot more research about the foods I feed my family. I talked to so many people that were so impressed with my progress and I could see the hope in their eyes that they could pull this off too. Those people inspire me to work harder than ever to get and stay healthy.
And the greatest thing I learned this weekend? I can fit into a plane seat with much room on either side to spare. Gone are the days where I try to make my large body as small as possible so I am not crowding others.
I feel like there are other things I am forgetting to tell you. I'm so tired. But I will be posting more about my trip later this week.
To my friends at Medifast (and yes, for all you've done for me, in my head you are my friends) thank you. I wish you could fully express how this plan has changed my life and how the opportunity to go to BlogHer'11 is seriously one of the most amazing gifts I've ever received in my life. The words just don't seem to be enough. Thank you, thank you, thank you!
Month Two: -5 lbs
Month Three: -6 lbs
Month Four: -6 lbs
Month Five: -6 lbs
Week twenty one: -3 lbs
Week twenty two: -3 lbs
Week twenty three: Come back tomorrow...after I've ummm....made a deposit.
Total: 45 lbs gone forever!
If you're interested in trying Medifast, I have a great deal for you! Use the code TURNIP50 to get $50 off an order of $275.
*FTC Disclosure: Medifast provides their products for my personal use for free. I am not paid or compensated in any other way for mentioning their products. All thoughts written here are mine. I love complaining so I would tell you if I didn't like something in the program. :)