Take it off, Week 25: Medifast update, Drive Thru style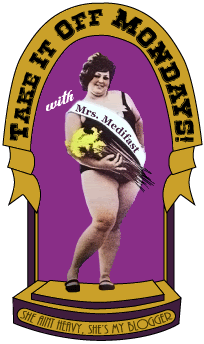 Today's post is going to be a quicky. I have some stuff I want to talk about (things like dealing with physical changes) but I'm off from work today and it's gorgeous outside. So Izzy and I are going to take advantage of this odd day off and cool temps and go on a nice walk in the woods with the bestie, maggie and their dog Cocoa. I'm sure you'll agree that this is a better plan than me sitting in front of my computer, waxing poetic about losing weight.

I was so hoping that I would hit 50lbs today. It didn't happen. I place the blame squarely on my girly parts. (For you boys that might be reading, that means bloat and water weight.) So I am down 1.5lbs this week for a total of 49lbs in 25 weeks.

Okay, I'm going to go get my sneakers on so that we can get moving!

Don't forget to link up below your posts about getting healthy.


Month Two: -5 lbs
Month Three: -6 lbs
Month Four: -6 lbs
Month Five: -6 lbs
Month Six: -8.5 lbs
Week twenty five: -1.5lbs
Total: 49 lbs gone forever!
If you're interested in trying Medifast, I have a great deal for you! Use the code TURNIP50 to get $50 off an order of $275.
*FTC Disclosure: Medifast provides their products for my personal use for free. I am not paid or compensated in any other way for mentioning their products. All thoughts written here are mine. I love complaining so I would tell you if I didn't like something in the program. :)